You don't want to miss out on a fantastic chance to reach out to potential customers for your landscaping company because 93 percent of online interactions begin with search engine optimization.
Investing in search engine optimization (SEO) using page rank increases organic traffic and may assist your business to appear in more search engine results and draw more valuable visitors to your site.
On this page, we'll provide you with six tips on how to do SEO for landscaping businesses.
Would you want to learn where your SEO is today? Use our free SEO checker to see how well your SEO is doing!
1. Find relevant keywords to appear in the right search results
The first stage in SEO for the landscaping industry is to identify relevant keywords. The position of your landscape business in search results is determined by keywords. If you wish to rank in relevant results, you must improve your site for keywords related to your landscaping business.
To find the right and similar keywords, start by using a keyword research tool like KeywordsFX. A keyword research tool will help you generate relevant key terms that you can integrate into your site.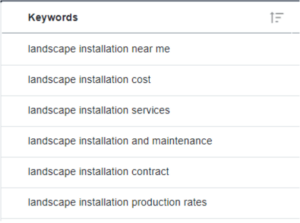 When you conduct keyword research, focus on long-tail keywords. Long-tail keywords contain three or more words, like "landscaping companies in Newark, DE."
Because they're focused, these keywords are ideal for SEO since people who search online for them are more likely to be interested in your company.
So, if someone searches for "tree removal services in Newark, Delaware," you know exactly what they're looking for. On the other hand, looking for something like "tree removal" isn't very precise, and the searcher could be seeking anything in particular.
Take some time to include your long-tail keywords on your site after you've discovered them. Adding these terms to your page will help you rank for that phrase. However, don't use them excessively since this may result in keyword stuffing and lower your site's position.
2. Optimize title tags and meta descriptions to compel searchers to click
Title tags and meta descriptions are two more aspects of SEO landscaping that you should consider.
These two components are the first things your audience sees in search results.

The Title and Description tags are crucial because they influence whether someone clicks on your ad or passes it by. Furthermore, these tags are used by search engines to assess the context of your site and rank it in search results.
To create a more compelling title tag, you'll want to:
Make it exciting and stand out from your competition
Integrate your core keyword at the beginning of the tag
Keep your title tag within the 60-character limit, so it doesn't get cut off
Use power phrases (skyrocket, massive, exclusive) to make your listing more enticing
To create a more compelling meta description, you'll want to:
Use your core keyword within the description
Provide your audience with a preview of what to expect
Keep your meta description within the 155 character limit
When you have a well-optimized title tag and meta description, you'll rank higher in search engines results and attract more interested leads to your lawn care companies.
3. Claim your Google My Business listing to drive local leads
When you're doing an SEO campaign for landscapers, don't forget to activate your Google My Business profile. A Google My Business profile shows up in search results when someone searches for a certain kind of business or service in their area, as well as google maps.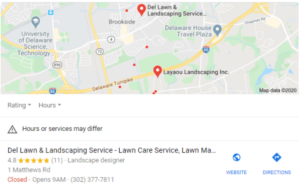 The display text for this local business is located in a box at the top of search results. The local SEO 3-pack, as it's known, is essential for driving website visitors or clients to visit or contact businesses in the neighborhood.
You want to submit this listing so that when someone searches for things like "landscaping companies near me," "Landscaping firms in [city]," or any other variation thereof, your business will appear on the first page of local 3-packs.
To begin, log into your Google My Business account and claim your business. Fill out your listing to assure that it is well-optimized for search results once you've claimed it.
You'll want to verify the following information on your listing:
Business name (should be your official name, like "David's Landscaping" instead of "Dave's Landscaping")
Address
Phone number
Once you've verified this information, you can move on to optimizing the rest of your listing.
You'll want to include a little blurb about what your company does and how long you've been in operation. It's also critical that you include your website's URL so people may learn more about you.
Lastly, add photos to your Google My Business listing.
According to a study by Search Engine Land, firms with 100 or more photos received 520 percent more phone calls and 1,065 percent more website clicks than the average business. To increase views on your listing and leads, add photographs of your staff, projects, and other items!
Because a Google My Business listing is an important component of SEO strategies for landscaping firms, you must invest the time to optimize it so that you may appear in more local searches and generate leads.
4. Create content to drive valuable leads to your site
The most important aspect of Landscaping Services – SEO is content production. Creating content is critical for attracting visitors to your website who are interested in landscaping.
You're a landscaping specialist, and people are continually on the lookout for information about how to complete landscaping tasks. When you create content, you give your audience a window into your expertise and offer them recommendations that may be useful in a variety of tasks.
You'll also develop a solid reputation in your niche if you write articles that are helpful, engaging, and informative. When consumers learn that you know what you're talking about, they will trust you more and be more inclined to select your business when considering landscapers.
You can create numerous types of content, including:
Videos
Blogs
Ebooks
Guides
Infographics
Podcasts
And more
You'll want to experiment with a variety of content types in order to keep your content strategy contemporary for your readers. Not everyone enjoys the same thing, so you must use a variety of content types to appeal to various segments of your audience.
When making content, concentrate on industry-related subjects.
Creating content that is relevant to your lawn care service business is an important SEO component, which helps you attract qualified visitors to your website. You won't get the correct leads to your page if you produce content that isn't relevant to your field.
Search for your core keyword in Google to get a sense of how to refine your content. You may see what your rivals wrote so you can figure out how to make your material a step ahead of them.
To be successful with content marketing, you need to do the following:
Ensure your content is skimmable and easy to read (paragraphs should only be 2-3 sentences)
Utilize images and videos to break up text and keep readers engaged
Create a content calendar to ensure you publish content often
5. Improve your site's load time to keep leads on your site
Did you know that 83% of users expect your website to load in three seconds or less? Users want your site to load quickly, so increasing site load time is an essential component of SEO for landscaping.
Users will bounce off your site if it takes too long to load. If your page takes too long to load, your visitors will most likely return to the search results and go to a competitor's website instead. Bounce rate, which is calculated by dividing the total number of page views by unique visitors, has been linked to negative SEO and a decline in ranking.
To avoid an increase in bounce rate, measure your site's current load time. You may use a browser plugin, like Google PageSpeed Insights, to see how quickly your site currently loads. This tool will also provide you with insight on how to improve your site load time.
6. Make sure your site looks great on mobile to keep leads engaged
When it comes to SEO for landscapers, having a mobile-friendly website is critical for your company's online success. Over 70% of Internet time is spent on mobile devices, so someone will likely search for your landscaping business on a mobile device.
If you don't have a mobile-friendly website, you'll drive away these leads.
Not to mention the fact that, since Google switched to a mobile-first index, having a mobile-friendly website is crucial to achieving high rankings in search results.
So, how can you create a mobile-friendly site?
The fastest method to make your website mobile-friendly is to use responsive design. Your website should be designed to be as adaptable as possible, allowing it to respond appropriately to whatever device a user is using. Your site will adjust the screen size based on the device used to provide the optimum experience.
A responsive website promotes a better user experience on all devices, allowing you to rank higher in search results.
Get started with SEO for your landscaping business today
SEO for lawn care firms is a wonderful method to begin increasing the visibility of your website in search results. You'll build more optimized sites that rank higher and attract more qualified consumers.
If you need help getting started with SEO for landscaping companies, OMAHA SEO is here to help. We can help you track and measure your SEO performance and returns to ensure you're getting the most out of your SEO.