Some companies struggle to find relevant content ideas. Thankfully, there is a solution. If you want to stay ahead of the curve, you must embrace artificial intelligence.
AI Content marketing has grown past overwhelming.
According to Smart Insights, for example, marketers publish around 1500 blog posts every minute – and I'm not surprised. The Content Marketing Institute reports a staggering 93% adoption of content among top-performing companies – not to mention that 82% of them consider their efforts mature.
So, as a content marketer, how do you produce high-quality content today? How do you ensure that what you publish is relevant to your audience's needs? How do you create a trust that they can find what they need easily in search engines?
I can think of one way only: turning to AI and machine learning to drive your content marketing strategy.
Get your website unstuck now! How?
Click the Omaha SEO link below!
Omaha SEO
There are so many ways to do this. AI helps analyze top-ranking content and understand what makes it so successful. AI insights uncover the search intent, too. With that, you can deliver more relevant content for each individual along the various stages in the buyer's journey.
That said, in this post, I'll focus on another key content marketing challenge: how to find topics guaranteed to engage the right audience.
Let's first cover some basics.
What Goes Into a Proper Content Discovery Gap?
Most content writers have a simple desire. They want to come to work and know what they should be writing about right away. Why? Because, as content creators, they want to focus on writing, of course.
Many of them have little insight into how to research new topics, after all. Others don't know how to identify content types they should be investing in heavily.
From the SEO point of view, however, organizations must focus on three types of content only:
1) Evergreen topics that deliver a constant flow of traffic and demand
Such content relates to topics people look for often. What's more, the way they search for those topics isn't likely to change over time.
I often use the term, "used cars," to illustrate this concept. It's the most likely keyword to use when looking for a second-hand vehicle, isn't it? I can't imagine customers starting to look for used cars with any other term.
Of course, they might use variations of it. They could search for "used Toyota cars," "used electric cars" and so on but these are related terms anyway.
And so, any content you create for that term will remain evergreen. Customers will keep finding it since the way they search for such information doesn't change.
2) The problem/solution content that often ends up in the Answer Box
Such pieces of content have become a staple of digital marketing today. They offer guidance to customers, answers to their basic questions or teach them a new skill.
3) Trendy topics that cover what's on the audience's minds at present
Having said that, these are short-lived topics, and the only way to get the most out of them is by publishing such content often.
But here's what the most effective content strategy for an enterprise brand looks like:
First, it involves building a content machine to produce as many evergreen assets as possible;
Some of the writers' time would go to targeting the answer box as well; and
If a company has enough resources, some of it could go towards creating trendy and newsworthy topics.
Let's take a look at how each happens in practice.
Part I. How to Uncover Evergreen Topics
In most companies, the process of identifying new topics relies heavily on keyword research. There is nothing inherently wrong with it, of course, aside from the fact that keywords have lost their effectiveness to topics. Nonetheless, content ideation relies on analyzing relevant search queries.
The problem? Most keyword tools make this process cumbersome. They output too large target keyword lists to distill and analyze by hand. For example, I know how marketers often skim the top of the list but rarely review any potential ideas further down.
That's where AI comes in.
seoClarity, with capabilities such as Topic Explorer, groups long lists of keywords by root topics, for example.
Let's use our earlier keyword example, "used cars" to explore this even further. Running it by the Topic Explorer results in a whole range of potential topic ideas.
For one, I can evaluate the entire topic landscape – the number of related keywords, total search volume, and even the keyword intent breakdown.


That's just the start. I can review the list of related keywords to find more specific topics.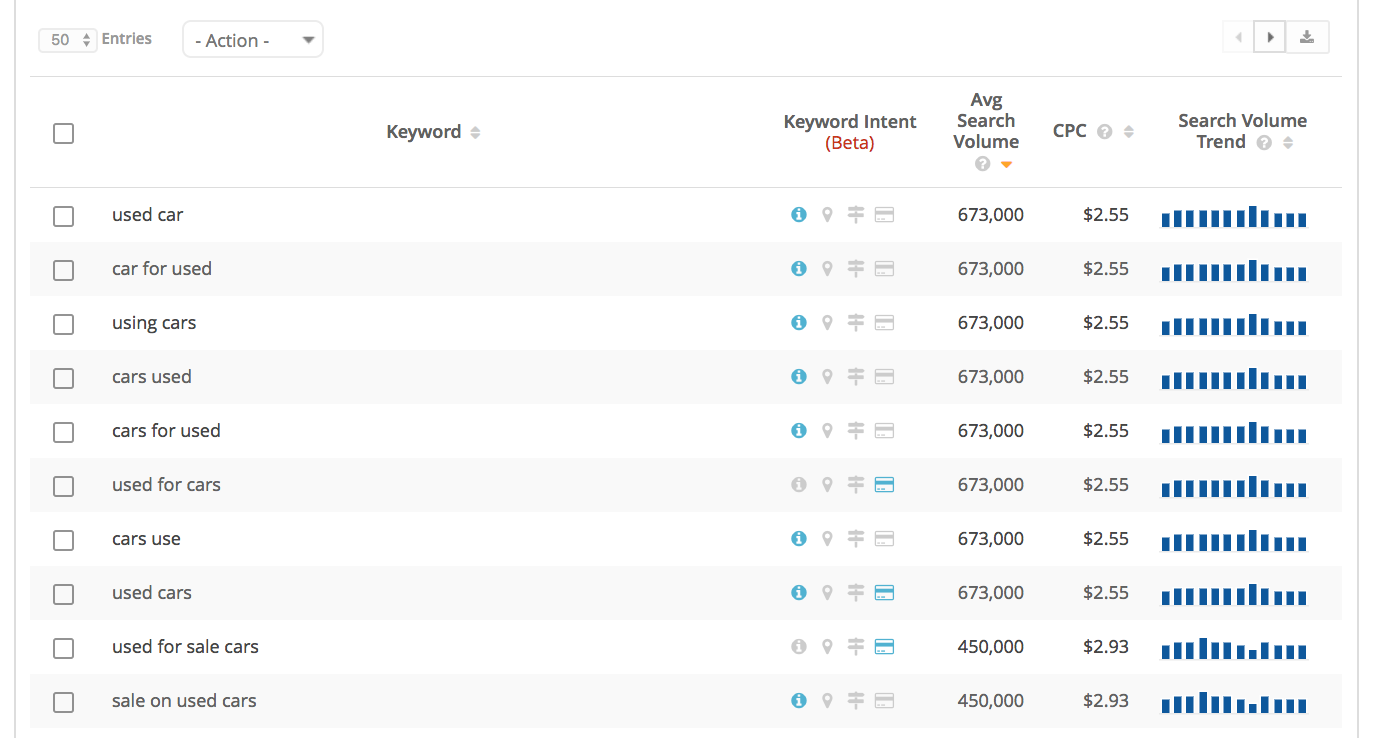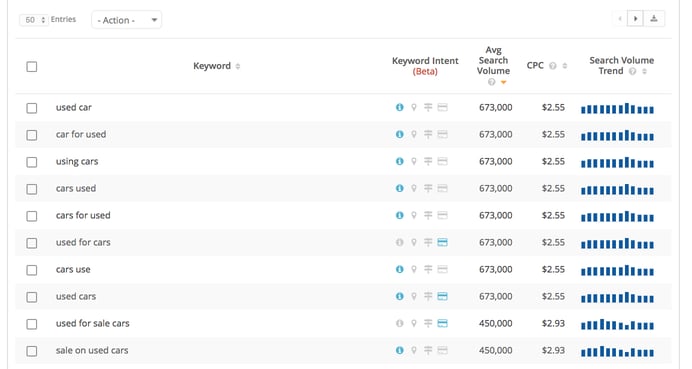 (Related keywords Topic Explorer report)
The machine learning algorithm also tells me the intent behind those topics…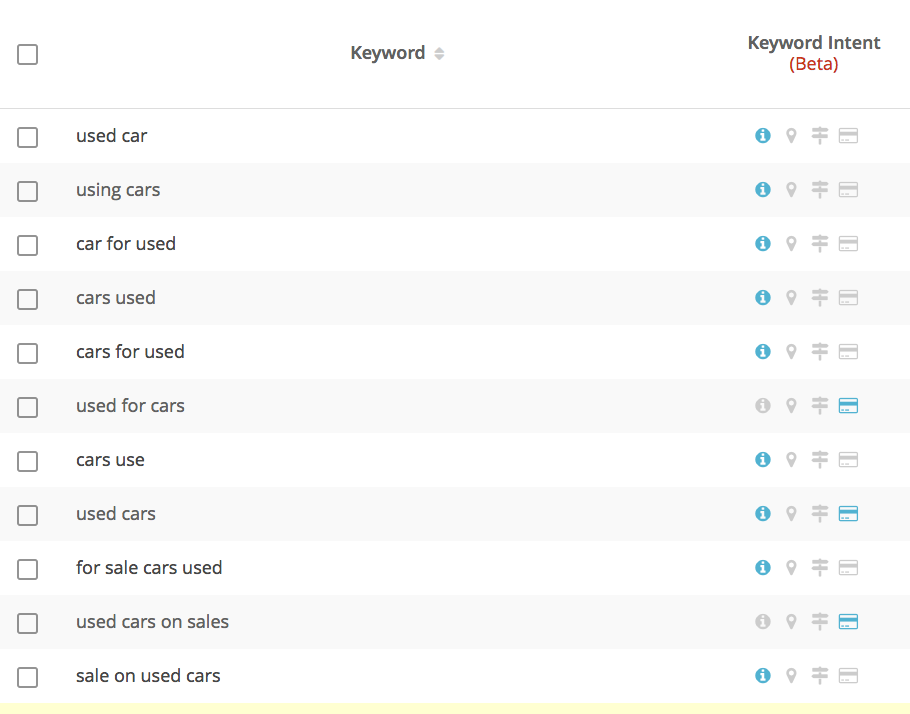 (Topic Explorer report showing Keyword Intent)
… and splits those keywords into topic clusters to show how different terms relate to each other.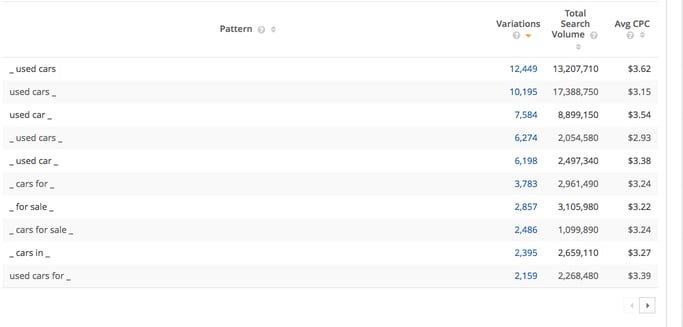 AI-powered insights like the above help a content marketer shift their approach to SEO content from individual keywords to entire topics, uncovering highly-relevant content ideas in the process.
Let me show you a particular feature that drives relevance even further – the Landscape View.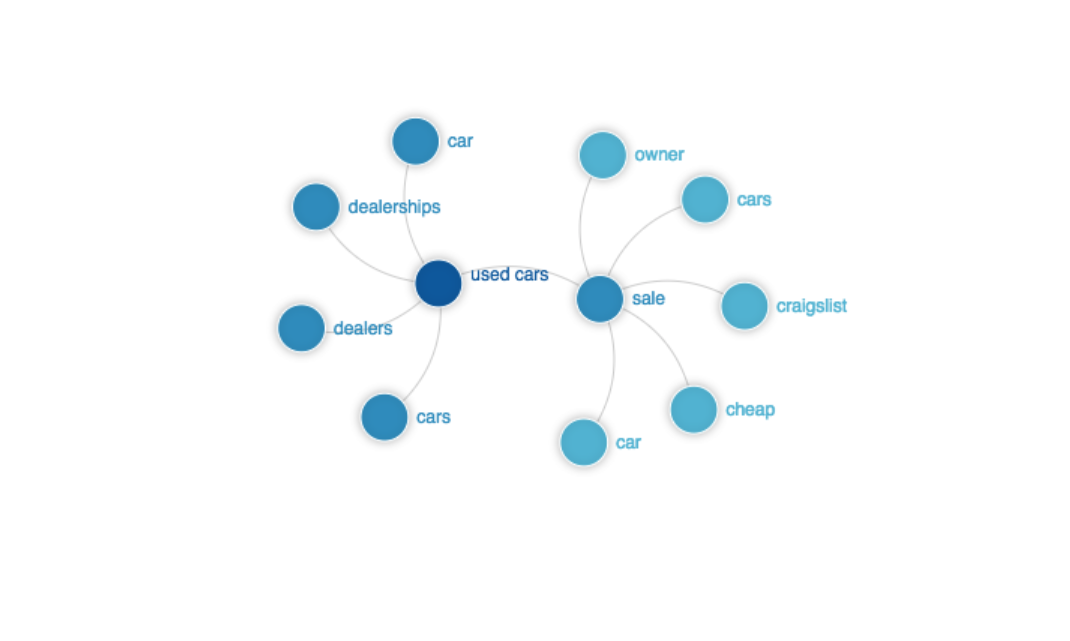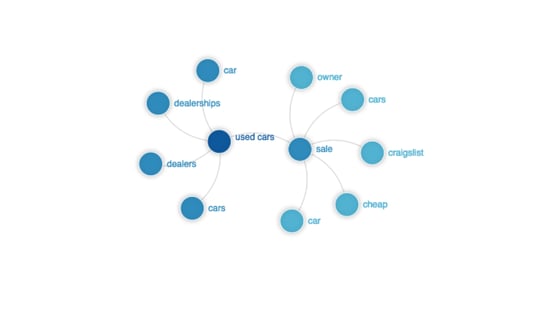 (The Landscape View showing first and second-level keyword dependencies)
This first-ever visual keyword research tool lets you break topics into further subtopics to see how different information relates to each other in the search.
Why would you do that? To know what to write about specifically to gain absolute dominance of the search landscape – all thanks to AI-driven machine learning insights you wouldn't get otherwise.
Part II. How to Build a List of Topics for the Answer Box
Next, the challenge with finding out which topics will trigger the answer box. Once again, to gain such insight a writer would have to sift through thousands of potential keywords manually, looking for those that include the featured snippet.
That's not the case when they are not using an artificial intelligence-powered platform because, for the most part, the insight they seek lies buried in their data already. And the challenge is to uncover it quickly and do it at scale.
Which is why seoClarity, for example, offers the Answer Box Opportunity capability.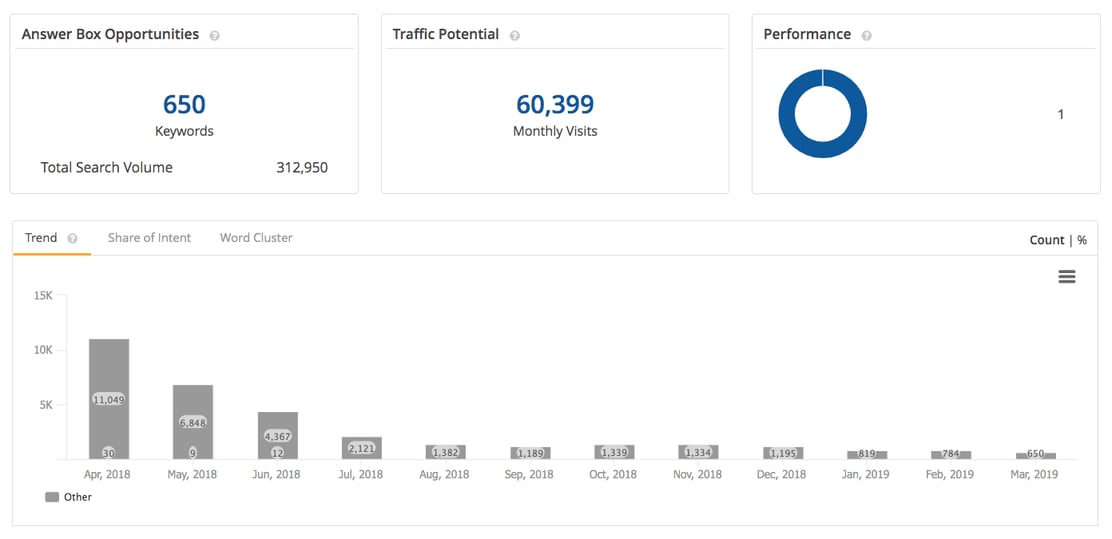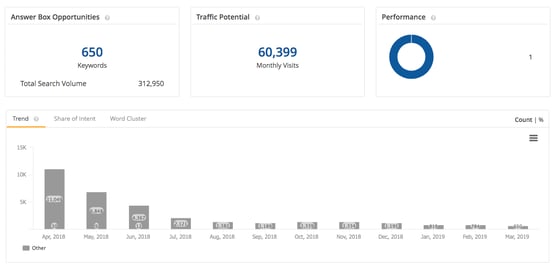 With it, content writers build lists of topics that display the answer box, filter them further to uncover quick wins, and create lists of topics to cover.
What's left? Tackling those topics one after another, until the company gains a significant presence in the featured snippet.
Part III. How to Identify Trending Topics
Before we continue, I want to stress something. Although publishing trending topics might seem like a good investment of time and effort, I'd recommend it only if a company has resources to spare.
Why? For one, because this is short-lived content. Its lifespan stretches no further than the audience's interest in the topic. And as is the case with more news-based information, such interest often wanes after a day (or even less!).
However, if an organization can assign people to it, then here's how AI helps uncover trending topics.
A capability within our platform, called Content Ideas, allows you to review top stories, tracked by Google News data. You can filter those results by specific keyword, ideas, and even the found date.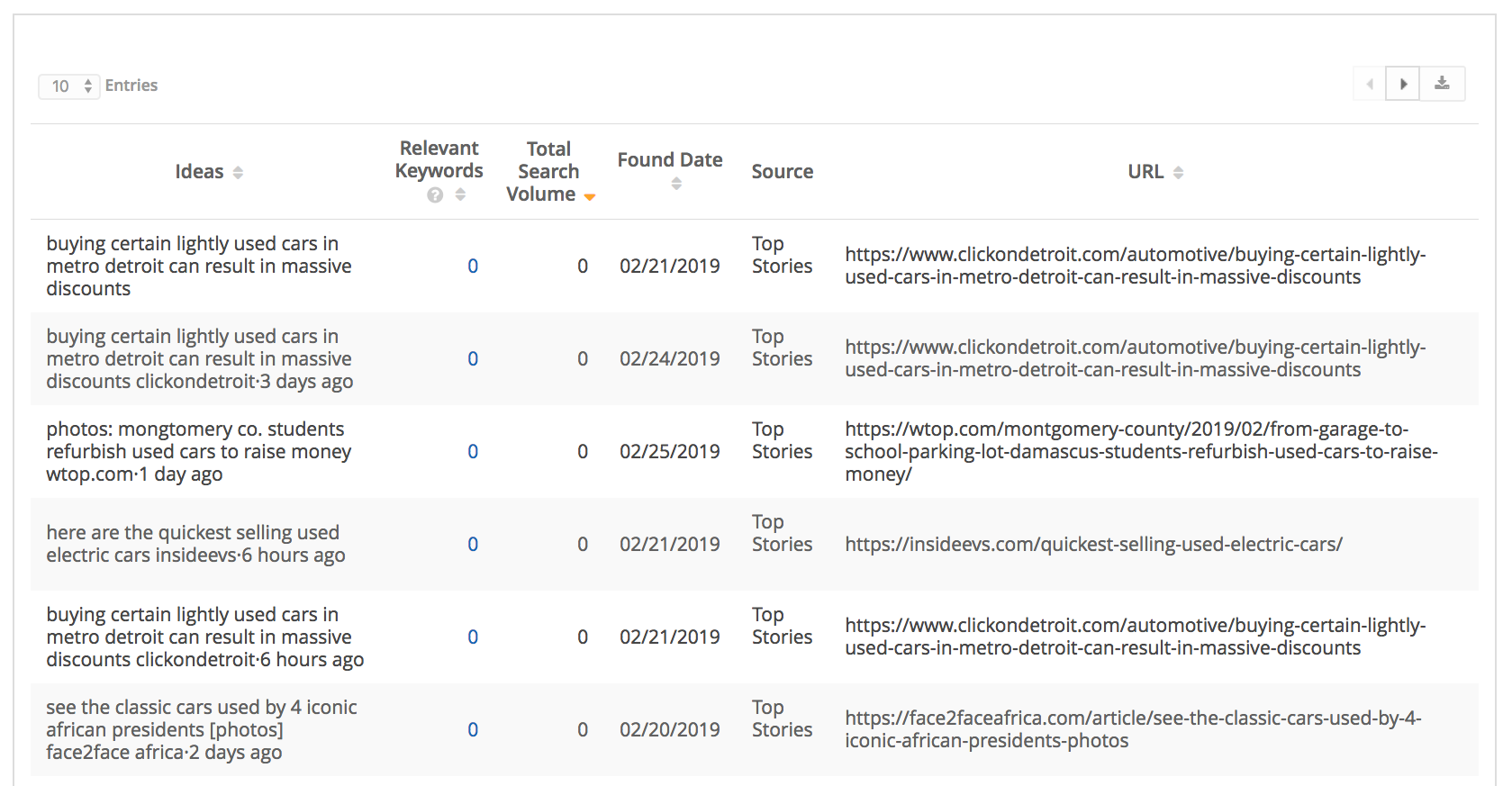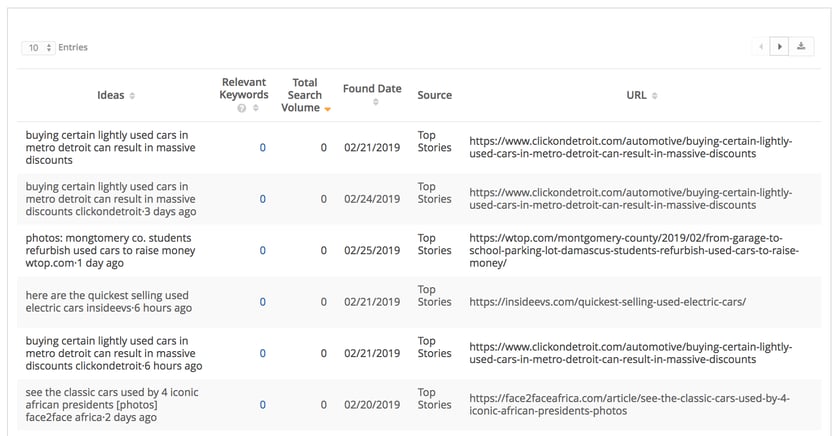 (Content Ideas reporting on Top Stories)
It's important to note, though, that those results won't remain valid for long. The nature of trending topics is that the interest in them changes often, after all. If you use the capability every day however, it will deliver new ideas and topics to focus on straight away.
Key Takeaways
As the adoption of content reaches nearly 100%, breaking out becomes more and more overwhelming. Some companies struggle to find relevant ideas. Others find writing the content challenging.
Thankfully, there is a solution. It involves turning to AI and machine learning to help analyze the data and identify the most valuable topics to investing time and effort into.
In fact, given the widespread adoption of AI, if you want to stay ahead of the curve, you must embrace artificial intelligence – I don't see any other way to go about it.
---
Mesmerize your audience when you rely on
AI in your content strategy. Schedule a quick call today.
Via: https://www.seoclarity.net/blog/ai-content-marketing